West Texas Energy Consortium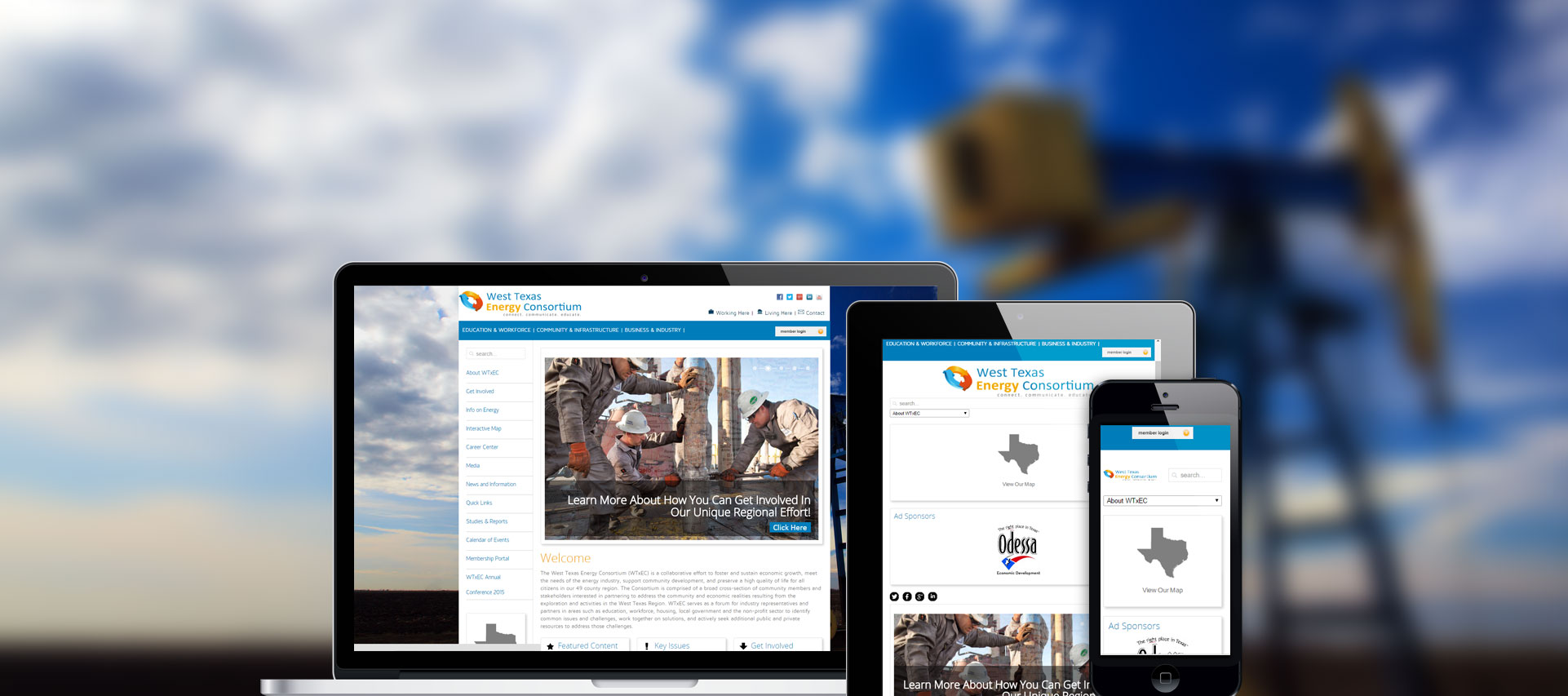 SITUATION
The West Texas Energy Consortium (WTxEC) is a broad cross-section of community members and stakeholders interested in partnering to address the community and economic realities resulting from energy exploration and activities in the West Texas Region.  The Consortium is a voluntary effort supported by Workforce Solutions Boards in the Concho Valley, West Central and Permian Basin regions representing a 49 county area. In their role of oversight and management, the Workforce Solutions of West Central Texas Board is responsible for procuring goods and services on behalf of WTxEC. Website project objectives included:
Graphic logo design and creation for website and marketing collateral branding,
Design the website to be viewable on Smartphones and tablet devices,
Custom develop an interactive map with local demographic information to inform new business opportunities for exploration, relocation, and expansion.
SOLUTION
Workforce Development releases a Request for Proposal (RFP) on behalf of the West Texas Energy Consortium to solicit proposals to redesign the website, provide creative graphic design services, and develop an online interactive demographic mapping system. Vitasys – ezSite Content Management Systems is chosen because of their expertise and experience with the WordPress CMS platform and for their custom software development capabilities in Geographic Information Systems and mapping, including Google Maps.
RESULTS
Workforce awards contract to ezSite to rebuild the website and develop the interactive map. Firm designs and presents several logo design concepts until a selection is made. Company also designs and presents several new website themes with page layouts and site maps. Testing verifies site functionalities and responsive design for mobile users. Long-term benefits anticipated for Workforce Solutions and West Texas Energy Consortium include:
Consistently branded organizational images across digital and paper platforms,
Greater appeal to member communities & agencies through online tools,
Mobile device access to website users through tablet and Smartphone devices,