Silicon Valley Regional Interoperability Authority
The best place to get help for your essays is a writing service. They are trustworthy and reliable, will not take your money, or leave with no trace.Custom essay writings are becoming a popular way for students to meet their academic requirements.When you purchase an essay from a paper writing firm, be sure that they have a money back assurance and privacy policies. You should look elsewhere if they do not provide a money-back guarantee and a privacy policy.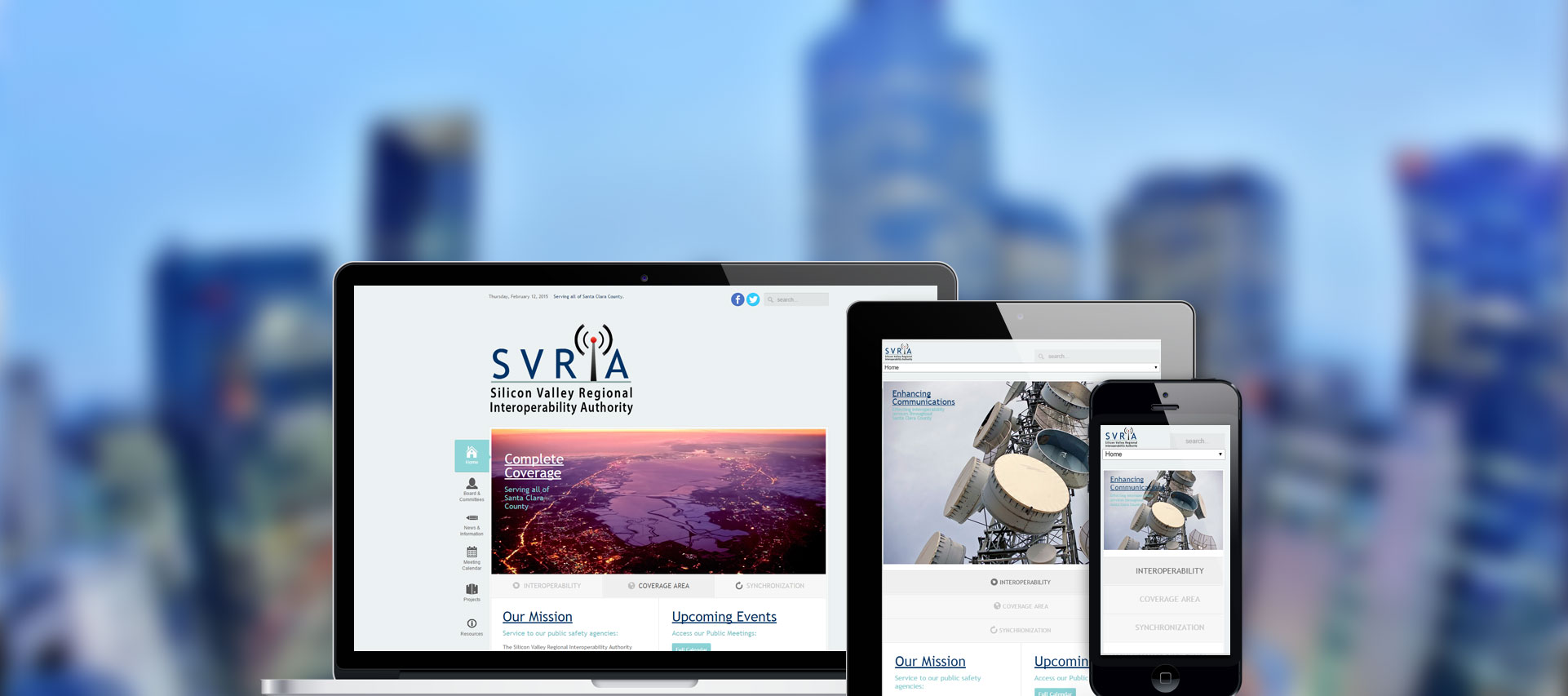 SITUATION
In 2001 a Joint Funding Agreement (JFA) was entered into by all of the municipalities in Santa Clara County along with San Jose State University, the South Santa Clara County Fire District and the Santa Clara Valley Water District.  The purpose of the JFA is to enhance and coordinate regional public safety data and radio communications systems with a focus on interoperability and strategic planning in the event of emergencies or disaster. In 2011 the JFA transitioned to a Joint Powers Authority (SVRIA) with the need to create a public facing website and Content Management System (CMS) intranet to:
Provide material to inform the general public about the mission, objectives, strategies, policies and operations of the Authority.
Help manage and coordinate Board of Directors, Executive Director and internal staff meetings, Authority events, and project plans.
Full brand creation to promote radio and communication system interoperability between municipalities and public safety agencies.
SOLUTION
After soliciting bids through a competitive Request for Proposal (RFP) process, SVRIA chose Vitasys to develop CMS website from scratch and maintain the site through a 12 month service agreement. Site features include: member login user roles; document and file storage; calendar of events module and display; social media integration; newsroom and newsletter features; Google webmaster tools and analytics; search engine optimization; emergency notification system; and content management capabilities.
RESULTS
Authority Executive Director and staff realize greater work efficiencies and labor cost savings, including:
Increased management effectiveness.
Improved collaboration and communication.
Decreased system, network and website administration costs through self-service content management capabilities.
Writing services for essays offer customers several advantages. They offer a money-back promise, which could be one of the greatest benefits. This allows you to ask for a reimbursement if you feel the quality of your paper doesn't meet your expectations.The most impressive feature of the best custom essay writers is their ability to produce an effective, unique and well-written essay that will ensure you ace your class.It is important to be aware that there are frauds and scams that are out there. There are cheap essay services that deliver top-quality, original papers. It is important to keep your eyes on the fact that the business should be legally registered. In addition, be sure that the writer is a native of English.