Texas Virtual School Network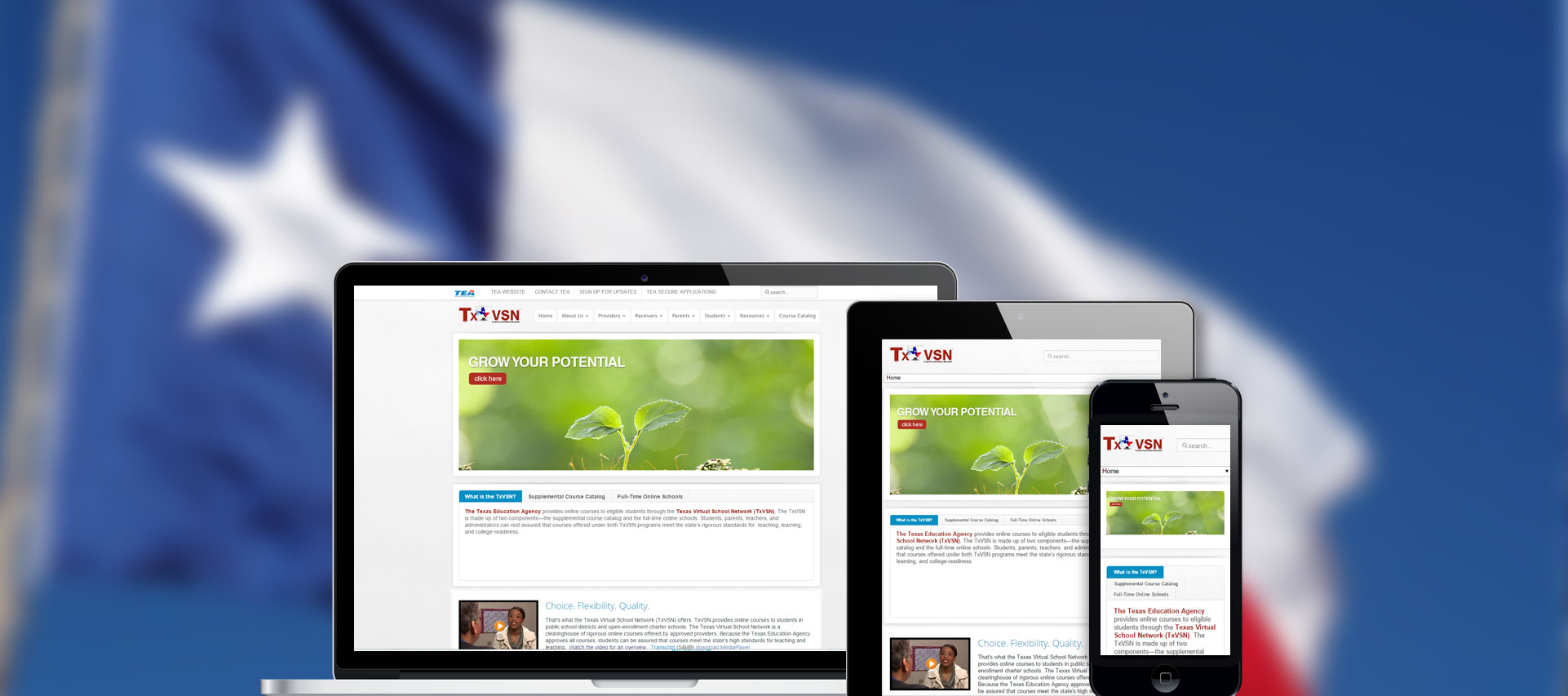 SITUATION
In 2008 the Texas Education Agency (TEA) awarded the central operations of the Texas Virtual School Network (TxVSN) to Education Service Center Region 10 (ESCR10) in collaboration with the Harris County Department of Education. ESCR10 launched the website in 2009 and manages the TxVSN website, student registrations, course catalog listings, course reviews, and administrative and reporting functions. Since the website's launch, much has changed in the technical capabilities of a CMS and the expectations of website users using Smartphones and tablet devices. As a result, ESCR10 released a website redesign and development Request for Proposal with key project deliverables to include:
Interviewing the Texas Education Agency (TEA) and TxVSN operations and IT staff on potential website improvements and technical needs,
Providing design recommendations and specifications for the integration of statewide catalog, informed choice reporting, and other systems,
Installing and configuring a Content Management System (CMS) compatible with MS Windows Server that allows permissions-based content editing,
Providing training to the TxVSN operations and IT staff to allow for website maintenance, expansion, and future enhancements.
SOLUTION
Education Service Center Region 10 solicited vendors to redesign the website and provide a CMS, training and maintenance. ezSite Content Management Systems submits proposal to redesign an open-source CMS based website for ease of use and extensibility.  New site features include backend systems integration, course catalogs, social media and newsletter integration.
RESULTS
ESCR10 awards contract to ezSite to redesign the website and provide training and support.  Vendor to port existing desired, content, integrate backend systems through iFrame engineering, and provide technical support and maintenance.  Finished website will be responsive to mobile devices and support all major browsers including Microsoft Internet Explorer, Mozilla Firefox, Google Chrome, and Apple Safari. Site also will include US Rehabilitation Act Section 508 web accessibility compliance with digital forms management and surveys, video and audio support, breadcrumb navigation, and detailed analytics reporting capabilities.